Why Optimism is Fading in Pakistan
70 years after independence, Pakistan is caught in political chaos, and it seems as if the reasons to be optimist about the country's democratic future got fewer. Next years' elections could turn out to be a crossroads in its history.
In a historic yet controversial decision in July 2017, Pakistan's Supreme Court disqualified former PM Nawaz Sharif from holding public office. Although Sharif was ousted for not declaring his financial assets, the main charges against him were related to Panama Papers that showed three of Sharif's children as having links with offshore companies holding properties in London. The apex court subsequently referred several graft cases to the National Accountability Bureau for a proper trial.
His removal from premiership means that another elected prime minister in Pakistan could not finish his constitutional term. In fact, no Prime Minister in the Islamic country has ever finished his tenure. Therefore, even many of those who are critical of Sharif's politics agreed that his departure was a huge setback to Pakistan's democratic evolution.
Since its independence from Great Britain in 1947, the country's history has been shaped by a enduring conflict between the army and democratic forces. With Sharif's ouster, the army is back in the driving seat, and the reasons to be optimistic about Pakistan's democratic future get fewer.
Civilian assertion?
Pakistan's democratic culture has matured in the last years, one might say, and it is evident by the fact that the military generals abstained from directly intervening in the enduring political crisis. Since 2013, opposition politician Imran Khan had been agitating against former PM Sharif's government, first on election rigging allegations, and later on the Panama Papers corruption scandal. There was a time in 2015 when the military could use the pretext of mass protests against Sharif's government to declare a martial law, but then army chief, Raheel Sharif, was reluctant to be involved.
Although Raheel Sharif launched a major drive to boost the military's image, which became tarnished after former al Qaeda chief Osama bin Laden's killing in the Pakistani city of Abbottabad in 2011, he and his generals respected Nawaz Sharif's mandate to rule.
Despite pressure from Saudi Arabia to join the military campaign against Iran-backed Houthi rebels in Yemen, the Pakistani parliament decided to remain neutral. It did not take side in Saudi Arabia's conflict with Qatar, and the army respected its decision.
These were enormous assertions for a civilian government. They might have irked Riyadh and the Pakistani military, but they could definitely give hope for the country's democratic future.
And yet, as the new Bertelsmann Transformation Index (BTI) Country Report that will be published in 2018 points out, the "military-civilian relations are likely to remain uncomfortable, with security and related foreign and domestic policy areas effectively under military control. Coordination between the two power centers remains more ad hoc than bound by the National Security Council. New oversight and registration requirements for INGOs, justified on security and national interest grounds by the Interior Minister, have produced concern for the vibrant third sector. New electronic media rules, and the abduction (and reappearance) of liberal bloggers, raise concern for the future of civic activism and deliberation online."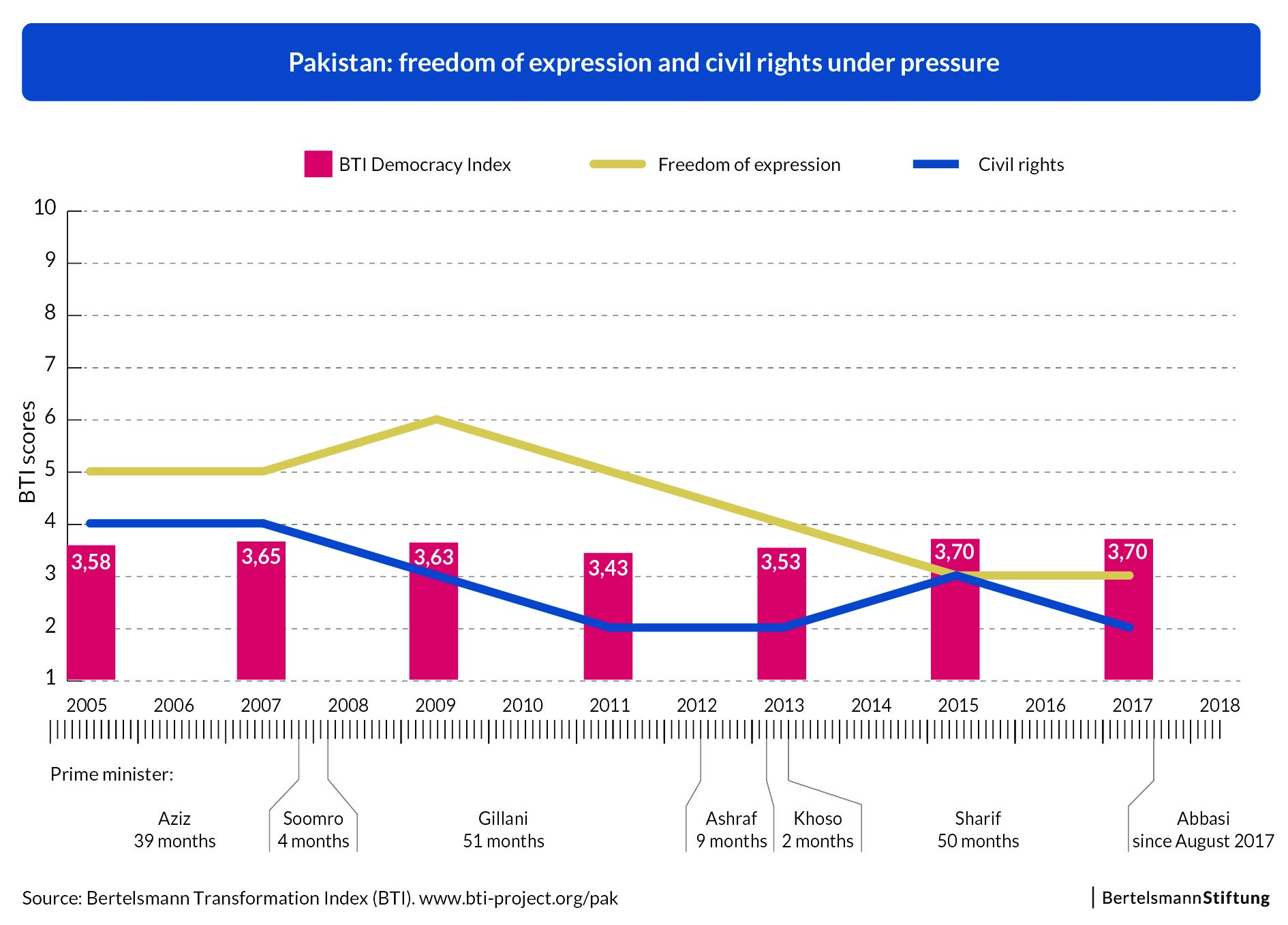 A vibrant civil society under pressure
In fact, Pakistan's civil society is more vibrant than ever with more youngsters taking part in politics. The anti-Sharif movement was spearheaded by Imran Khan, but the main force behind it was the Pakistani youth who are fed up with the political status quo. Khan's massive rallies against Sharif had his party's young supporters at the forefront.
At the same time, activists critical of Khan's political agenda and the role of the military in political affairs have gained more strength over the years. Sharif's government had increased a crackdown on social media and the Internet in an attempt to silence critics, but these measures proved to be largely ineffective.
In January 2017, four social media activists went missing from Islamabad and other major cities of Pakistan, raising alarm about the military agencies' alleged involvement in their "kidnapping." A powerful civil society campaign ensued and led to the release of these activists. But the blasphemy allegations against them forced them to flee the country.
The ouster of a popular leader, who came into power in 2013 with a huge mandate, trimmed civilians' space to govern even further.
Election in 2018 Crucial
Today, the situation is far from ideal. Sharif's disqualification deprived Pakistan of a good opportunity to consolidate democratic gains that the country has made since former military dictator Pervez Musharraf left power in 2007. While it would be crucial to the consolidation of democracy that civilian premiers complete their constitutional terms, the army still calls the shots in the South Asian country.
And the tug-of-war between Pakistan's army and civilian legislators, parliament and judiciary, and most importantly, between the military and civilian prime ministers is likely to increase in the months to come.
This is why the 2018 general elections could prove to be a watershed moment in the country's 70-year-old history, deciding what path the country is going to take: toward more military control or its gradual erosion.